CDE will be closed on Monday, May 25 for the Memorial Day holiday.
You are here
Drama and Theatre Arts Education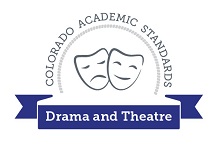 "The stage is not merely the meeting place of all the arts, but is also the return of art to life." --Oscar Wilde
"Too often, we glimpse the outlines of a scene and fail to notice the details that fill it in, making it truly interesting and unique." --Eric Booth
Theatre Arts are Important to Life and Learning. Theatre arts are a universal force in the everyday life of people around the world. This force connects each new generation to those who have gone before. Students need theatre arts to make these connections and to express the otherwise inexpressible. Theatre, the imagined and enacted world of human beings, is one of the primary ways children learn about life – about actions and consequences, customs and beliefs, and others and themselves. (Read more about the Colorado Drama and Theatre Arts Standards.)
Educator Effectiveness Practical Ideas Guide for Drama and Theatre Arts
Throughout the development, pilot testing and validation study of the Colorado State Model Evaluation System, groups of teachers and their evaluators with unique roles and responsibilities expressed concerns that the teacher materials didn't provide adequate guidance. They requested additional guidance regarding evidence/artifacts that may be used by such specialized teachers. In addition, they asked about specific practices to "look-for" to guide their classroom observations and help ensure that all licensed teachers receive fair, valid and reliable evaluations.
In response, CDE initiated the development of a set of guides written by practitioners for practitioners. They are intended to provide informal advice to teachers and their evaluators to help them understand the evaluation process within their specific context. 
PLEASE NOTE: The purpose of these documents is to highlight possible approaches for districts and BOCES to consider when constructing their approach to evaluating educators. CDE will be collecting on-going feedback to improve this guidance. To submit your feedback, email Educator_Effectiveness@cde.state.co.us. 
---
State Partners for Drama and Theatre Arts Education
---
National Arts Organizations for Drama and Theatre Arts Education
For additional assistance please contact Karol Gates.