You are here
World Languages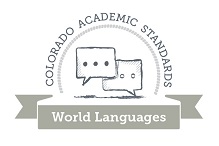 In the 21st century the ability to communicate in more than one language is an essential skill for all Colorado learners. Learning multiple world languages, developing multiple perspectives and understanding other cultures are vital skills needed to both collaborate and compete in our global community. Learners acquire knowledge, skills, and attitudes that equip them for living and working in a world of diverse peoples, languages and cultures.
---
Important Announcements
Now Available in Spanish! Guides to the Colorado Academic Standards
To help families and communities better understand the goals and outcomes of the Colorado Academic Standards, kindergarten through high school guides are available for all content areas.
PLC Bytes
For website assistance, please contact Joanna Bruno