You are here
10th Anniversary PWR Showcase - March 9, 2021
10th Anniversary PWR Showcase - March 9, 2021
PWR Showcases feature PWR Facilitators and ICAP Awardees statewide. They highlight student and staff stories, show off their processes, and celebrate successes. 
On March 9, the PWR Showcase theme was ICAP is Meaningful!
Superintendent, Mike Bowers, staff and students from Lone Star Schools talked about their PoWeRful K-12 ICAP program called Adulting 101. 

First grade teacher, Michele Walker showed off Aurora Public Schools' award winning elementary school curriculum, and PWR Coordinator, Brandon Wright connected the curriculum to the district's strategic plan.

Karen Irvine from Kinard Core Knowledge School in Poudre Schools shared information about their middle school experiential learning, including SPARK! interview questions that counselors and teachers use to kick off career conversation questions with students.
Here are several artifacts from the Showcase:  the Recording, the Slides, and  Resources from each of the districts/schools.
Next Showcases:
April 13:  ICAP with Parents, Families
May 11:  Celebrating ICAP and Postsecondary and Workforce Readiness (PWR)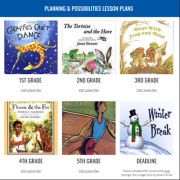 Type of Practice:
Curriculum and Scope and Sequence
District / School ICAP Process
Lesson Plans
Testimonials / Anecdotes from Educators
Testimonials / Anecdotes from Students and Families
Websites
Category:
Individual Development
Career Development
Academic Development
PWRful Demonstration of Learning
Capstone/Performance Assessment
Equity, Inclusion, Diversity and Access
Meaningful Career Conversations
Type of Organization:
District and/or School
District Size:
Not a District
Region:
Not Region-Specific
Developmental Level:
Elementary School
Middle School