You are here
Individual Career and Academic Plan (ICAP)
The PWR Playbook is live!
Access the new  PWR Playbook, a How-To-Guide designed by and for ICAP practitioners.  Click below, or on the navigation bars to the right.
PWR Showcases - 2021
Showcases feature PWR Facilitators and ICAP Awardees statewide. They'll highlight student and staff stories, show off their processes, and celebrate successes. 
Register here for one or all four showcases                    
February 9:  ICAP and CTE.  Counselors, CTE teachers, and students from Mesa County Valley District 51 in Grand Junction talked about their PoWeRful ICAP, CTE, and experiential learning practices.  Participants joined in conversations about promising practices with an informal panel of teachers, counselors and leaders from Calhan School District, Poudre High School, and Colorado's Finest in Englewood.  
March 9:  ICAP is Meaningful! Hear from NE Colorado business and education coalition (NECOPWR) leader, Don Crow, Lone Star Superintendent, Mike Bowers, and students from NE BOCES and Lonestar Schools about their PoWeRful K-12 ICAP program.  Join in conversations about promising practices with other ICAP champions who will discuss their integrated ICAP curricula and programming.
April 13:  ICAP with Parents, Families
May 11:  Celebrating ICAP and Postsecondary and Workforce Readiness (PWR)
Find recordings and resources from the showcases HERE and in the PWR Practices, Tools, and Resources database.
About ICAP
ICAP is a multi-year process that intentionally guides students and families in the exploration of career, academic and postsecondary opportunities. With the support of adults, students develop the awareness, knowledge, attitudes, and skills to create their own meaningful and powerful pathways to Postsecondary and Workforce Readiness (PWR).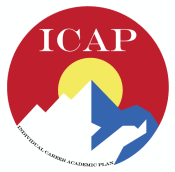 ICAP in the time of COVID-19
Check out this list of timely webinars, trainings, and resources for ICAP, including lesson plans, adult and teen wellness, mental health, and laughs. Information is updated often!
News
It's the 10th anniversary of ICAP!
Join us for Tenth Birthday Tuesdays including informational interviews, storytelling, and district showcases
ICAP Award Winners will be announced on March, 1, 2021.  They will be featured in the PWR Showcases this spring - part of Tenth Birthday Tuesdays.
Join us for a PWR Symposium, regional training for ICAP and Graduation Guidelines.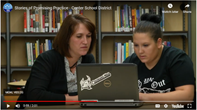 Katrina Ruggles with a student
"ICAP has been transformative for our school district. We have moved from believing that we need to create opportunities for students to engage in post-secondary education to an expectation that ALL students in our district will graduate with a post-secondary career plan. We have engaged all staff in our building in this process, creating a culture where students know they have resources and support to reach personal career goals. ICAP is the right thing to do for our students, and we have embraced it as a way to demonstrate the relevance for our students of what we teach every day to future academic and career goals."

Katrina Ruggles, School Counselor from Center High School in the San Luis Valley
Contact
Robin Russel 
Graduation Guidelines and ICAP Manager 
Russel_R@cde.state.co.us
303-866-2908