You are here
Unified Improvement Planning
Pause on 2020-21 State Accountability System Due to COVID-19
Because of the pause on the 2019-20 state assessment system due to COVID-19, the state is planning to pause on the 2020-21 state accountability system. The April 15, 2020 deadline for submitting UIPs for public posting has been extended until May 15, 2020. More details on the implications of a pause in state accountability are available in the links below.
---
About
Colorado schools and districts can improve student learning and system effectiveness by engaging in a cycle of continuous improvement to manage their performance. To support this purpose, the Education Accountability Act of 2009 requires each Colorado district and school to create an annual improvement plan.
The Colorado Department of Education has developed a unified improvement planning template and processes to support schools and districts in their performance management efforts. The UIP template has been designed to meet state, federal, and program accountability requirements.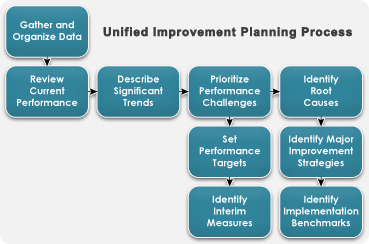 News
Local Accountability System Grant Application is now available here

. The application is due December 19th. 

New Performance Watch Labels:

 House Bill 18-1355 makes several modifications to Colorado's accountability law, in particular to the Accountability Clock. The majority of these changes go into effect with the 2019 Performance Frameworks. For a summary of adjustments in the performance watch process (e.g., language, progression through clock), see the 

Performance Watch Summary

 (PDF 2019)

Parent Notification and Public Hearing Requirements Fact Sheet​: ​​For districts with schools on the Accountability Clock (i.e., priority improvement, turnaround), state law requires notification be sent to parents with information about the school's plan type, UIP process, and about the upcoming public hearing. 

 
Teaching and Learning Conditions in Colorado (TLCC) Survey: The 2020 Survey will be administered in January. For more information visit TLCC Colorado.
School and District Performance Frameworks and UIPs: The most recent frameworks and the most recently submitted UIP are available here: http://www.cde.state.co.us/schoolview/performance
UIPs 2018-2019: All school and districts UIPs are now posted to the CDE website: Unified Improvement Plans.  
Note
The UIP process map in the upper right-hand corner contains interactive links to resources available to support each step of the unified improvement planning process. By clicking on a step in the map, you will be directed to the support page for that step in the process. You may also use the links on the left-hand navigation bar to access these resources. Click on either "Unified Improvement Planning" at the top at the process map, or "Unified Improvement Planning" on the left-hand navigation to return to the UIP homepage.