You are here
Accountability, Performance and Support
Evaluation of Colorado's K-12 Education Accountability System. 
The evaluation report (also referred to as the accountability audit) was released by the legislative audit committee on December 12, 2022.  You can access the report here:  https://leg.colorado.gov/audits/evaluation-colorado%E2%80%99s-k-12-education-accountability-system 
The report is a result of HB 21-1294.  Overseen by the Office of the State Auditor, the selected evaluator was HumRRO.  The recording of the presentation can be accessed here.  The evaluator will also be providing a presentation on the report to the State Board of Education at their December 14, 2022 meeting.  You can access information about the board meeting (e.g., location, livestream connection, materials) on their website.  
The intent is to determine whether the current system:
Meets the goals and intentions of the General Assembly, as stated in the legislative declarations set forth in Section 22-7-1002, C.R.S., and Section 22-11-102, C.R.S.
Contains institutional or cultural biases based on race, ethnicity, religion, sex, sexual orientation, nationality, disability, age, or economic status.
Provides an accurate, credible, and comparable assessment of public education throughout the state.
For Information about the state accountability process, visit:
State Accountability: This page describes resources on 2022 state accountability, including guidance and fact sheets.
District and School Performance Frameworks: This page includes access to reports called the District Performance Frameworks (DPFs) and School Performance Frameworks (SPFs). These reports include information about district and school performance ratings and inform the school accreditation process. Starting 2022, the frameworks are referred to as School and District Transitional Frameworks.
Request to Reconsider and School Accreditation
Transitional Frameworks Interpretation Context (PDF)
State Accountability Data Tools & Reports: This page links to data visualization tools and resources that are available to support the work of education stakeholders.
Federal Accountability:
The U.S. Department of Education (ED) has approved the state's waiver to make some adjustments to the ESEA identification process (e.g. Comprehensive Support and Improvement, Targeted Support and Improvement) in light of the two-year pause. For information on the ESEA identification process, visit the CDE ESSA State Plan website.
Unified Improvement Planning:
For information on creating, submitting and implementing a Unified Improvement Plan, visit the Unified Improvement Planning (UIP) website.
Link to flat files of district and school final 2022 framework results
Accountability Resources and Support
Link to resources, webinars and training regarding state accountability
Link to announcements regarding school and district accountability
Overview
Colorado's system of school and district accountability is primarily designed to provide valid and actionable information regarding the progress of all students toward meeting the state academic standards and prioritize support for schools and districts identified for academic improvements.CDE's School Quality and Support Division (formerly Accountability, Performance, and Support) is comprised of the offices of Accountability & Data Analysis, Unified Improvement Planning, School and District Support and Schools of Choice. Together, these offices support Colorado's schools and school districts throughout the cycle of continuous improvement.

Latest Accountability Communications: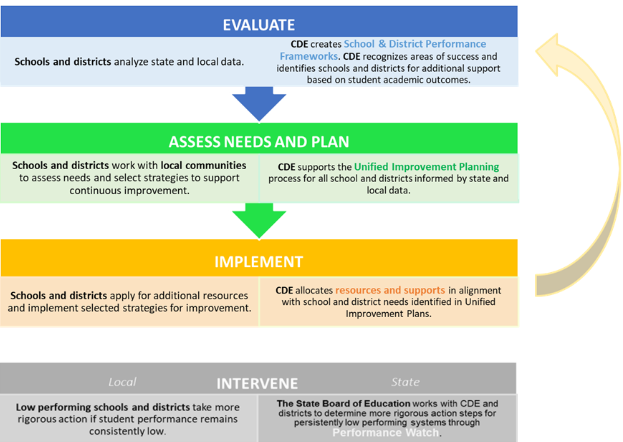 ---
Contact Us
For more information, please contact accountability@cde.state.co.us.