ELAT Application for 2018-2019 School Year
Audience: District and School Leaders
We anticipate the application for the Early Literacy Assessment Tool project will open the week of April 23rd, 2018. The RFP announcement for the project will occur the week of March 12, 2018; we will then seek EDAC approval for the application and select dates for the application webinar.  Over the next two to three weeks we will reach out to district and program level contacts through email with updates as a more defined timeline develops. We will post updates in The Scoop and other CDE communication channels. Thank you for your patience as this process has unfolded.
Professional Development
Audience: All ELAT Participants
It's time to register for the last round of flipped professional development for the 2017-2018 school year!  Advanced Progress Monitoring and DIBELS Next Foundations have sections beginning the week of April 2nd and finishing the first week of May.  Spaces are limited and registration closes on March 27th. Additional information and a link to enroll is available on the ELAT Training Page.
Amplify Product Update Drafts
Audience: All mCLASS Users
1. Numerical DIBELS Next Composite Score displayed in on-screen and printable reports (Classroom Reports)
Based on extensive teacher feedback that DIBELS Next Composite Scores need to be available, the numeric value of a student's Composite Score now displays alongside the color-coded performance indicators on all reports including:
Class Summary, Class Summary Time of Year, and Student Summary web reports  
Printable PDF reports, including the Class Summary, Student Summary, and Progress Monitoring Class reports
2. Removal of Off Grade PM Probes on DIBELS Next and IDEL Graphs
To ensure that off grade progress monitoring is presented in an accurate context, and does not appear side-by-side with on grade level monitoring, off grade level DORF and Daze probes will no longer appear on the student graph (FLO for IDEL).  Though these forms are measuring the same skill, the forms are different levels based on the grade and the graph shows the expectation for that particular grade level.
Teachers can still access off grade level data on the left side column of the student graph, and are indicated by the ‡ symbol.  The print version of the student progress monitoring report also includes off grade level scores.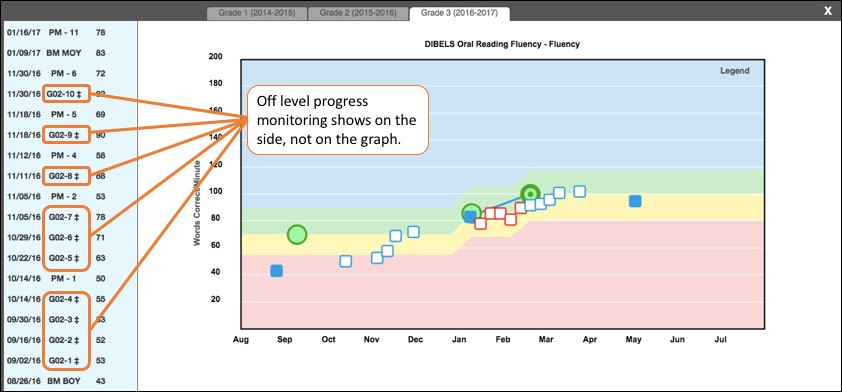 A few reminders:
DORF and DAZE (FLO for IDEL) are the only measure affected by this change because these are the only DIBELS Next measures that have grade-specific progress monitoring forms.  
For those students being monitored off grade level on a skill that is not assessed within the grade level (3rd grader progress monitoring on FSF), the results will be on the graph as well as over in the left column.
When the measure is required for the student's grade level, but not at the current time of year, assessments continue to display on the chart and in the left column.