eLicensure Overview
Follow these five steps to apply for an initial license, renewal or authorization.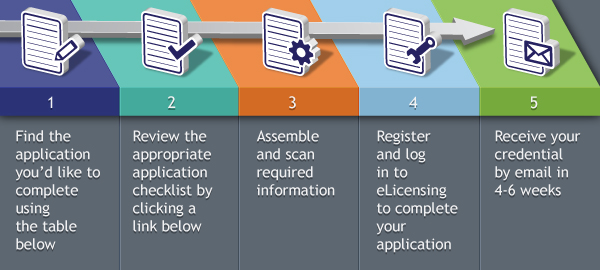 Preparing for eLicensure
Review the application types below to find the application that's right for you. Then select the associated link to bring up a checklist of everything you'll need to do prior to applying online.
Important note: Please do not start an application until you've reviewed the checklist associated with the license or authorization you are seeking. All applications require that you obtain and upload items such as transcripts, worksheets and/or signed documents. You will not be able to complete your application without them.
All Application Types
I want to apply for my:
License Type:
Authorization Type:

Teacher License

Substitute Teacher Authorization

Select from the links below if you would like to serve as a day-to-day substitute teacher in any Colorado school district:

Special Services Provider License

Note: special education teachers should complete the teacher application

Career and Technical Education (CTE) Authorization

Principal License

For building-level leaders (principal, assistant principal) who have completed an approved principal preparation program

Initial Authorization

Select one of the links below if you are seeking an authorization for the first time in one of these areas:

Administrator License

For district-level leaders (superintendent, director of special education or director of gifted education) who have completed an approved district-level administrator preparation program

* Please note: The administrator license is not for principals (see "principal" section above).

Authorization Renewal

Select from the links below if you hold an authorization and would like to renew it:

Added Endorsement to an Existing License

Select from the links below if you are seeking a second or subsequent endorsement to your current Colorado educator license in one of these areas: