Posted 06/22/2023 - 12:53pm
Tags
:
Education Workforce Program, ESSER II, Mental Health Needs
---
A $100,000 Education Workforce Grant enabled Holyoke School District in northeast Colorado to hire an additional counselor during the 2022-23 school year to help students and teachers in need of mental health support in the wake of the stress caused by the pandemic.
The Education Workforce Grant, funded through the Coronavirus Response and Relief Supplemental Appropriations Act of 2021 (ESSER II), was established to ensure "educators, leaders and support staff are in place and supported as they offer programs to provide in-person learning, address learning loss, complete unfinished learning and meet the COVID-related needs of Colorado students."
Holyoke School District covers about 540 square miles in the northeast corner of Colorado near the Nebraska border and serves about 600 students. Because the small agricultural community has limited mental health resources, Superintendent Kyle Stumpf knew the district needed to play a larger role in meeting the mental health needs of students and teachers.
"We realized that our teachers, who were holding it together so much for the kids and putting up a big front, really needed some of their own mental health needs taken care of," Stumpf said. "And so during COVID, I was actually paying for opportunities for my teachers to go get full counseling sessions in a nearby town, but they had to travel 25 to 35 miles away."
Travel time was also a barrier for busy parents to take their kids to regular counseling appointments in Sterling, a nearly one-hour drive from Holyoke.
Stumpf said the district has seriously considered providing a virtual therapy option, but he feels that, "it's really hard to build a rapport with kids, especially those vulnerable kids, through a screen."
With the grant funding in place, Stumpf was ready to hire a counselor to focus on the social emotional needs of students and teachers. But after the job posting had been up for six months without a single applicant, Stumpf reached out to a counselor who had previously worked for the district to see if she could help.
In September 2022, Kathleen Kropp returned to continue working with several students with the highest need for ongoing support and began to work with teachers as well. She spent one day a week at both the elementary school and high school. Kropp, a licensed professional counselor, was able to focus on in-depth therapy sessions because she didn't have additional duties like academic counseling.
During and after the height of the pandemic, "people felt more able to say I'm not doing okay," Kropp said.
In her view, the pandemic made it more acceptable to talk about mental health and helped people realize they could seek help for issues they may not have in the past. That's one of the silver linings of the pandemic because everyone can benefit from learning skills to communicate and better manage their feelings, she said.
Kropp and Stumpf emphasized the importance of relationships in the mental health of students. One way the district has measured students' well-being has been to track the number of trusted adults children have in their lives.
"Six years ago, we did a survey and we had our kids saying they had one, maybe two, trusted adults, and our last survey said they have seven or eight trusted adults," Stumpf said.  
Teachers are often among the trusted adults in students' lives but are not able to meet all the social emotional needs of each student, he said.
"We put a lot on our teachers," Stumpf said, "We really pride ourselves on our teachers asking questions and listening and then getting the student to the right person that can meet their needs. So they don't have to be a full time counselor. They don't have to have all the right words. They just have to be able to listen and to know how to get them to the right person who can help them so it's not another adult that has dropped the ball or another adult that just dismissed them."
Similarly, Kropp said the success of counseling is determined by the relationship between the counselor and the individual seeking help. She works within the framework of each relationship to teach new skills to help participants change problematic thoughts and behaviors. Some of the skills she helped students and teachers develop are communication, setting boundaries, relaxation and mindfulness.
"I feel like as a district, we're good at asking the questions, and then looking at the results and problem solving," Kropp said. "We have a really positive administration and board when it comes to mental health. I'm just very thankful because that's definitely not always the case."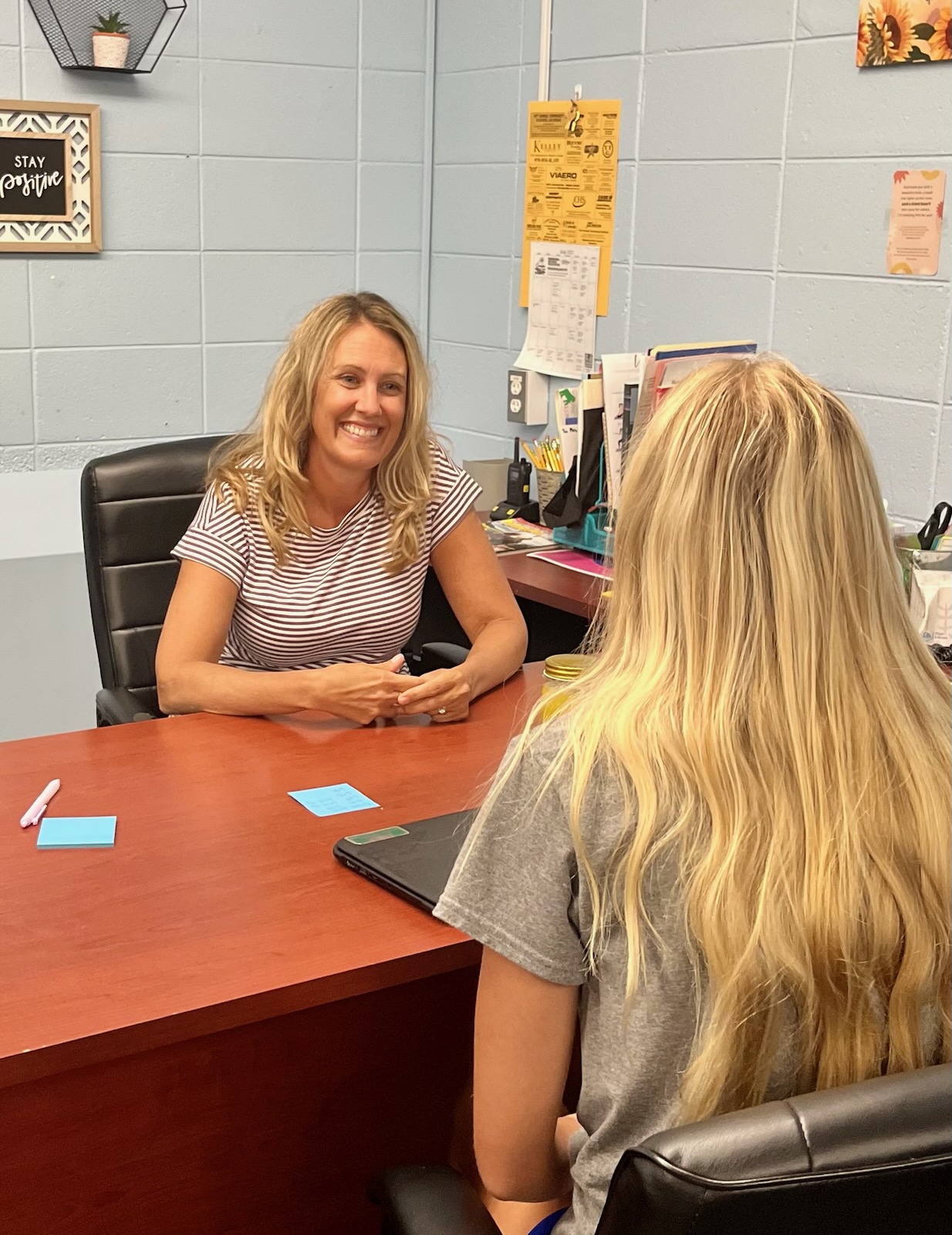 Kathleen Kropp was hired to provide counseling to students and teachers at Holyoke School District.
---