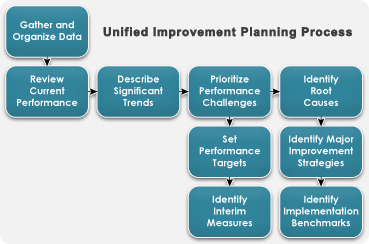 Unified Improvement Planning was introduced to streamline the improvement planning components of state and federal accountability requirements. The common Unified Improvement Planning (UIP) template and planning processes used represent a shift from planning as an "event" to planning as a critical component of "continuous improvement." This process reduces the total number of separate plans schools and districts are required to complete with the intent of creating a single plan that has true meaning for it stakeholders. Because schools and districts are required to publicly post their improvement plans through the state department of education website on SchoolView, Unified Improvement Planning also provides a mechanism for external stakeholders to learn about schools' and districts' improvement efforts.
Based on the Colorado Achievement Plan for Kids (SB212-08), the primary purpose of improvement planning is to align efforts to: Ensure all students exit the K-12 education system ready for postsecondary education, and/or to be successful in the workforce, earning a living wage immediately upon graduation. In addition, the federal Elementary and Secondary Education Act (ESEA) requires that improvement planning be focused on ensuring that all students in the state reach proficiency in English language arts/reading and mathematics.
The diagram depicted here illustrates the theory of action behind Colorado's approach to improvement planning. By engaging in a continuous improvement cycle to manage performance, districts and schools will improve their effectiveness and the outcomes for students. That cycle includes: Focus attention on the right things (performance indicators); Evaluate performance by gathering, analyzing, and interpreting data about performance; Plan improvement strategies based on performance data and root cause analysis; and Implement planned improvement strategies. Then, enter the cycle again multiple times throughout the school year: Evaluate (or monitor) performance (based on interim measures) and implementation of improvement strategies (based on implementation benchmarks) at least quarterly. Make adjustments to planned improvement strategies, and implement revised strategies, as needed.
Through the Colorado state accountability system, districts and schools are assigned to one of four "plan types." They are: Performance, Improvement, Priority Improvement, and Turnaround. These plan types identify which schools and districts will receive greater attention from the state – in terms of both increased state scrutiny of their plans and additional state support. Regardless of state plan type assignment, beginning in 2011-12, all districts use the same district UIP template and all schools use the same school.
The UIP, the UIP handbook (PDF), and this website are designed around four areas (in the table below). Tools and resources are included to help schools and districts understand the UIP requirements and facilitate the continuous improvement cycle.
For More Information
Please contact Lisa Medler, medler_l@cde.state.co.us or 303-866-6993.