Thursday Update Supplement
---
LiveWell Colorado created an online toolbox full of marketing resources dedicated to helping SFAs spread the word about fresh changes in the cafeteria. The toolbox can be found on the School Food Initiative resource webpage. 
---
 School Food Institute - Free online training for Colorado school food service staff
The Chef Ann Foundation has launched School Food Institute. These  online courses, taught by Chef Ann Cooper, meet USDA Professional Standards and are free for all Colorado food service professionals, thanks to support from the Colorado Health Foundation. Courses begin October 15 - enroll today. For questions or to get your free course code, contact Meghan Brenner.  
---
Demand for CSU Local Bean Varieties in Denver Market?
Sustainability coordinator Madilyn Beck, with Sodexo at Denver University (DU), is trying to source Colorado State University derived local bean varieties, as a local plant-based protein item. DU would use 1500 pounds over two and a half month and this is not enough Denver Sysco to pick-up, stock and deliver the beans.  (The Kelley Bean Company requires a minimum pickup order of 4,000 pounds of beans.) Would anyone be interested in sourcing this product from Sysco Denver? Bean varieties include: Great Northern Beans, Light Red Kidney Beans and Black Beans.  For additional information, please contact Madilyn Beck. (Please remember that standard procurement practices apply.)
---
The Colorado Education Initiative's Colorado Healthy Schools Smart Source school-based survey assesses the current state of your school health efforts. Smart Source now includes a module that meets the wellness policy implementation assessment requirement. To join the survey, send an email to smartsource@coloradoedinitiative.org.
---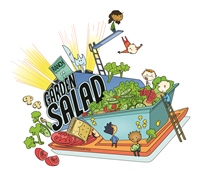 National School Lunch Week - School Lunch:  Recipes for Success - Oct. 9 - Oct. 13, 2017
Mark your calendars for National School Lunch Week, celebrating School Lunch:  Recipes for Success, Oct. 9 – Oct. 13, 2017.  Merchandise, logs and artwork and marketing resources are available at on the School Nutrition Association website.  Send your celebration plans and pictures for publication in the Thursday Update, to Stacey Macklin.
---
Environment Protection Agency (EPA)  On-Demand Webinar Series - Integrated Pest Management in Schools
The EPA has released the Integrated Pest Management in Schools on-demand webinar series, focused on a variety of integrated pest management topics.  This is a great opportunity to conduct training for staff and ensure compliance of food safety and pest management practices.  For additional information, please contact Sara Rose Foreman. 
---
School Food Waste Workshop, Friday, Sept. 22, 2017, 8:30 a.m. - 4 p.m.
Conducted by Douglas County School District and The Environmental Protection Agency, Region 8, on Friday, Sept. 22, 2017, 8:30 a.m. - 4 p.m. 

Rocky Heights Middle School; 11033 Monarch Blvd; Highlands Ranch, CO  80124
Educates school nutrition professionals with strategies for adjusting menu items to reduce waste, reducing food costs and capturing food scraps at the source.
Space is limited, RSVP by Sept. 1, 2017.
For more information, contact Katrina Brink.
---
Colorado Safe Routes to School (CSRTS) grants are available to help schools enable and encourage more children to safely bicycle and walk to school. For more information, contact Leslie Feuerborn. 
---
Creating Healthy Schools: What Parents Need to Know Workshops, Action for Healthy Kids
Dates and Locations | 9:00 a.m. – 3:00 p.m.
Tuesday, Sept. 19, 2017 – Ridgway, Ouray County Fairgrounds 4-H Event Center
Wednesday, Sept. 20, 2017 – Durango, Durango Public Library
Thursday, Sept. 21, 2017 – Cortez, Cortez Recreation Center
Presented by Action for Healthy Kids, LiveWell Colorado, Colorado PTA and Wellness Training Specialists
---
Green Schools Conference and Expo (GSCE)
This national event brings together those involved in making green schools a reality: people who lead, operate, build, and teach in U.S. schools.
---