You are here
News Release - Test scores set new baseline for measuring student success
Nov. 12, 2015
Test scores set new baseline for measuring student success
New tests are first to be aligned to Colorado Academic Standards designed to help all students graduate ready for college and career
State-level results are back from the first administration of Colorado's new tests in English language arts and math, and state officials say they should be considered only as a new baseline for measuring student progress.
As state-level scores were presented to the Colorado State Board of Education today, Interim Commissioner of Education Elliott Asp said the scores cannot be compared to old tests because the new tests measure different concepts and skills and are the first to be aligned to the Colorado Academic Standards.
"These scores don't provide an apples-to-apples comparison to old test scores," Asp said. "The new tests measure different things – such as where students are in developing the critical-thinking and problem-solving skills outlined in the Colorado Academic Standards. We should all consider these scores as a new baseline from which we will measure the future success of Colorado students."
Asp said he expects scores to rise in future years as students and teachers gain more experience with the higher standards and become better prepared to meet the more challenging material.
Given to public school students in grades three through high school in spring 2015, the tests were the first statewide measure of the more rigorous Colorado Academic Standards, which were fully implemented in all schools in the 2013-14 school year. The Colorado Academic Standards set rigorous, grade-level expectations in 10 content areas, and they include the Common Core State Standards for English language arts and math.
Part of the state assessment system called the Colorado Measures of Academic Success, the English language arts and math tests were developed – as required by state law – in collaboration with a consortium of states known as the Partnership for the Assessment of Readiness for College and Career (PARCC).
School- and district-level results will be publicly released in December. Printed individual student reports will be sent to districts in December for them to distribute to parents.
---
State-level performance highlights
The below chart shows the percentage of students who met or exceeded grade-level expectations and are on track to be ready for college and career.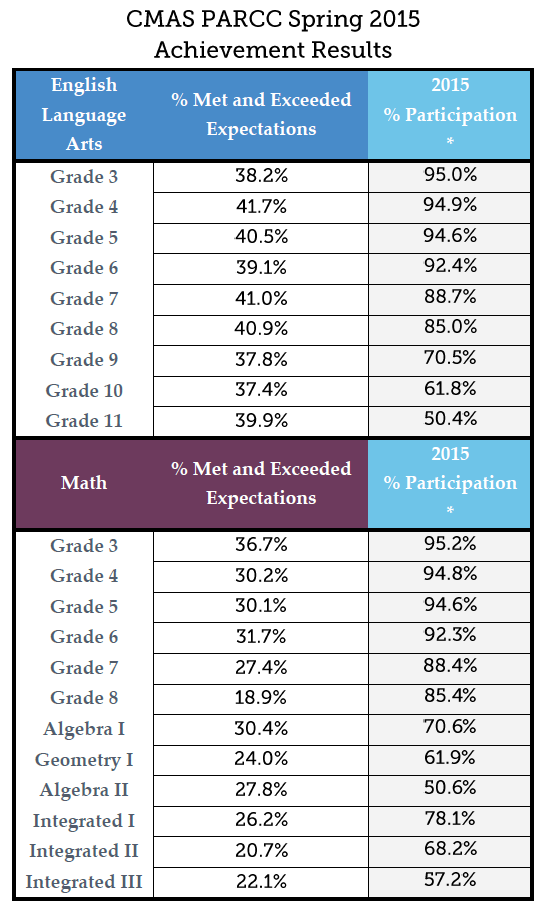 *These results only include students who took the appropriate test for their grade level. Percentages may vary slightly from the Participation Results document where off-grade testers are included. Off- grade testers are students who took a test not intended for their grade level.
---
Participation Rates Decline in High School
Data released today also show that state-level participation rates are high in elementary school but decline through high school. Students without a valid score (including parent refusals) are not counted
as participants in participation rate calculations. Along with participation rates, the number of students who did not complete testing due to reported parent refusal is also available in the data files released.
*According to a new state law passed last spring, students in grades 10 and 11 are no longer required to take the PARCC-developed tests for English language arts and math.
---
CMAS Tests Results Impact on Accountability and Educator Evaluations
The legislature created a one-year pause in the accountability system to provide educators and students more time to gain experience with the standards and aligned assessments.
District accreditation ratings and school plan types will not be assigned in fall 2015. They will resume in the 2016-17 school year. During the 2015-16 school year, districts and schools will continue to implement plan types assigned in fall 2014. The five-year accountability clock for districts and schools in Priority Improvement or Turnaround, the state's lowest performing schools, will not include the 2015- 16 school year. Click here for more.
The new legislation also bars districts from using results from 2015 state tests in science, social studies, English language arts and math for educators' 2014-15 evaluation rating. The tests may be used as a baseline for measuring growth in future educator evaluations. Click here for more.
---
State tests in 2015-16
After the CMAS PARCC tests were administered last spring, changes were made to improve the feasibility of the tests while maintaining accuracy and reliability. The following changes were made:
Testing time for students was reduced by 90 minutes overall (60 minutes for math; 30 minutes for ELA (some students will be required to participate in an ELA field test session of up to 90 minutes)).
The testing window was reduced from two windows to one three-week window. Tests will be administered from April 11-29. However, districts are allowed to begin testing one to three weeks early if they cannot complete testing within the allotted timeframe due to limitations on the number of computers or other devices needed for testing.
Students in grades 10 and 11 will no longer be required to take the PARCC tests. Instead:

11th-graders will continue to take a national college entrance exam
10th-graders will take a college preparatory exam aligned to the Colorado Academic Standards and 11th-grade exam

Both of these assessments are currently in the procurement process.
---
View All Results
---
Resources for parents
CDE has created a number of resources to help parents understand the new student score reports for the English language arts and math tests. View the resources.