You are here
News Release - Colorado's PARCC tests will be shorter, easier to administer
May 22, 2015
Colorado's PARCC tests will be shorter, easier to administer
PARCC states vote to shorten test time and consolidate to one window
The PARCC Governing Board, made up of the state education commissioners and superintendents, voted recently to reduce total test time for the English language arts and math tests by about 90 minutes for each grade beginning in the 2015-16 school year.  The board also agreed to consolidate the two testing windows into one window near the end of the school year. 
This year's PARCC testing was done in two parts—the performance based component/part conducted in early spring and the end-of-year component/part conducted in late spring, closer to end of the school year.
"This is a move in the right direction," said state Education Commissioner Robert Hammond. "As long as we have the PARCC tests in Colorado, we need to listen to our educators, parents and students and adapt as necessary to ensure that the tests are as easy as possible to administer while protecting accuracy and reliability."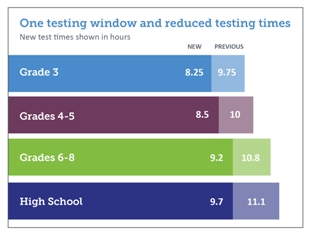 The Governing Board's votes will result in the following changes: 
Reduce the testing time for students by 90 minutes overall (60 minutes for math; 30 minutes for ELA) and create more uniformity of test unit times.
Consolidate the two English language arts and the two math testing windows into one.
--The single testing window will simplify administration of the test for states and schools that expressed concerns about the challenge of scheduling two testing windows.
Reduce the number of English language arts units by 1 in grades 3-5 and by 2 in grades 6-11. In addition, the number of high school math units will be reduced by 1. 
Approximately 540,000 Colorado students in grades three through 11 took the PARCC-developed tests in English language arts and math this spring.  Overall, five million students in 11 states and the District of Columbia completed the PARCC assessments this year.  The tests are part of the Colorado Measures of Academic Success system that also included Colorado-developed science and social studies tests this year.